How to make a retro-style junk journal?
Sep 21, 2023 by journalsay
How to make a retro-style junk journal?
Among the many journal styles, Journalsay's favorite is the retro journal. The overall color is low-key, giving people a strong sense of warmth, and it is very durable. No matter how many years have passed, it will still not feel outdated when you look back.
So, today Journalsay shares my retro journal idea~
1. Characteristics of retro style
Retro-style journals are mainly dark green, burgundy, and dark brown, and generally have high saturation, and some may have a dark style. One of its major features is its durability. As time goes by, those yellowed papers and curled paper corners have a more aged beauty.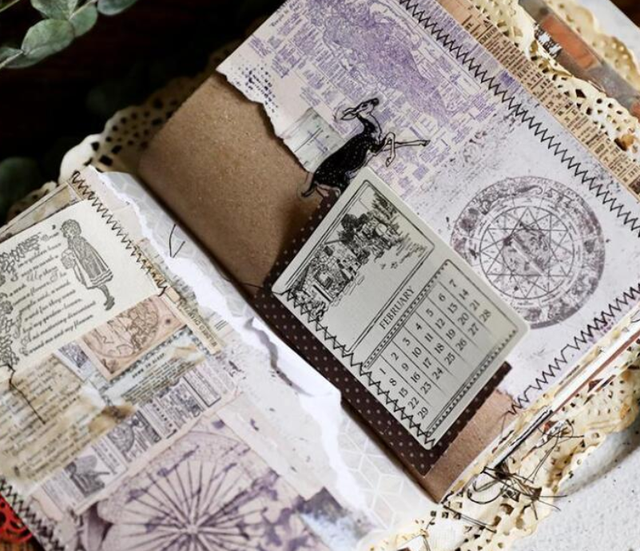 2. Materials required for retro style junk journal
A qualified retro-style journal must be inseparable from the following major materials.
The full name of TN is "Traveler's Notebook", which means traveler's journal. Because it is small and convenient, many people now not only use it as a travel journal, but also carry it with them during daily trips.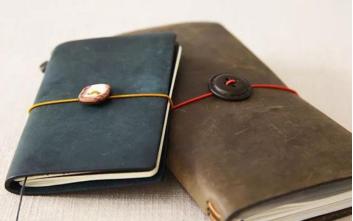 TN consists of two parts - a leather-like cover and a replaceable inner core. The covers of TN are mostly dark brown, light brown and reddish brown. There are no book bones. The entire cover will be fixed with an elastic cord to prevent it from spreading.

You can hang a button, bow or other accessories on it to make it more interesting.
And there is another advantage of using TNjournal. You don't have to worry about staining the cover, or worrying about scratches caused by sharp objects such as keys hitting it, because these scratches will have a special aesthetic feeling on the TN surface.
Stamps are really a small item with a sense of age. After all, in this era of highly developed communications, few people buy stamps because they want to send letters. However, the era when carriages and horses were very slow and letters were far away is a bit nostalgic. After all, a letter that travels across thousands of mountains and rivers also carries the expectations and sincerity of the sender. The recipient must also be looking forward to it.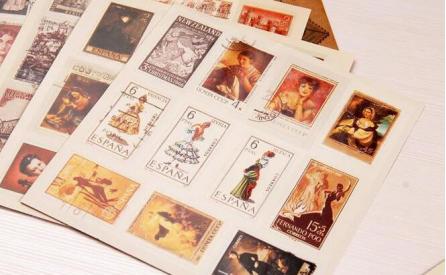 Nowadays, stamps are no longer a necessary condition for communication. They have gradually become a kind of souvenir with extremely high collection value. When collaged in a journal, they have a sense of the past.
When seeing kraft paper, the word "nostalgia" always comes to mind. Indeed, the dark brown appearance, smudged outline, and unique feel always give people an indescribable taste, especially when you gently wrinkle it and tear out the irregular edges with your hands. The piece of paper seemed to suddenly come to life.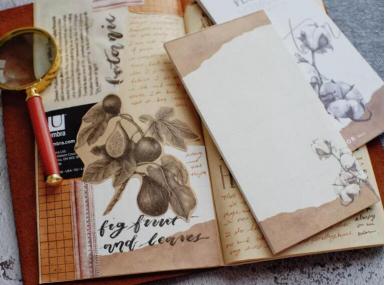 You can also put it in tea and coffee, and then take it out to dry. There will be some tea stains on the old paper, which will immediately lead people's thoughts to the distant old time.
Audrey Hepburn, Marilyn Monroe, Vivien Leigh... these figures who are famous throughout the history of film have presented us with classic movies one after another. Although they have disappeared, their appearance is firmly imprinted on everyone. in one's mind. Posting their photos in the book is also full of nostalgia~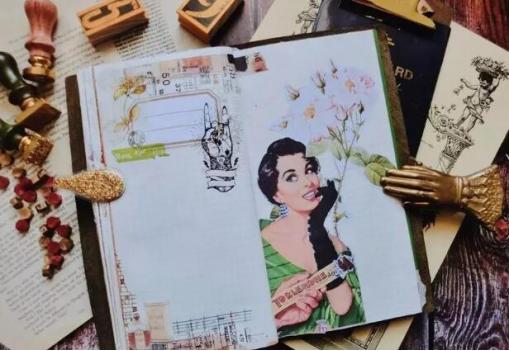 Sulfuric acid paper
Sulfuric acid paper is also one of the retro artifacts~ Translucent sulfuric acid paper is particularly permeable to oil and water, and when used in journals, it can increase the layering of content and is full of fun.
And it has many uses.
You can search for various good-looking materials on the Internet and print them out. Compared with other materials, the translucent nature of sulfuric acid paper tends to give the material a hazy beauty.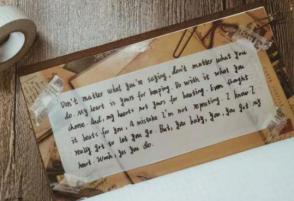 Because the background images of retro materials are relatively dark, but you want to write on them, you can also use sulfuric acid paper to write on them.
You can also stamp the sulfuric acid paper and blend it to give the paper a gradient look.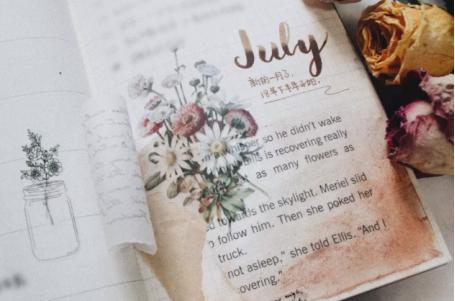 Of course, all kinds of good-looking seals are indispensable for retro journals. The appearance of seals gives retro journals a soul.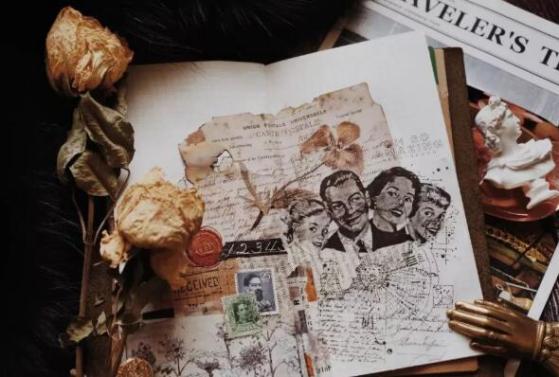 Stamp-style seals look particularly good whether printed on books or cards.
Not to mention on kraft paper~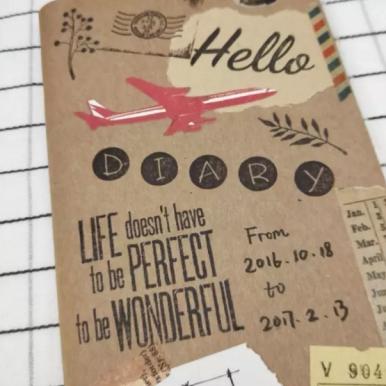 This kind of journal has a whole page with seals, which has a unique flavor (provided you have enough seals~)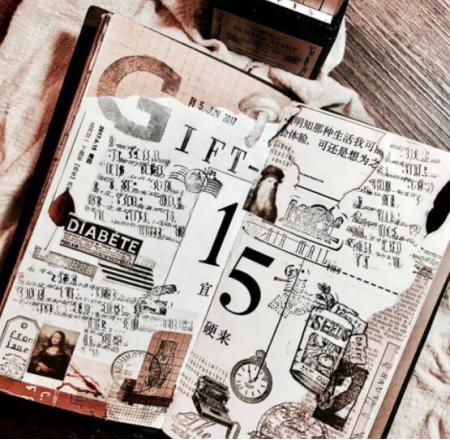 Of course, you can't avoid all kinds of good-looking tapes when playing journal. However, try to avoid light colors and low saturation tapes for retro journals. Try to use dark colors such as dark green and dark brown as the main ones, and simple English paragraph style. Tape is also a great option.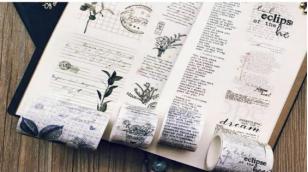 There is also this kind of square tape made of kraft paper, which is really versatile!
You can tear it into various irregular shapes, then splice it, and stamp it with your favorite seal~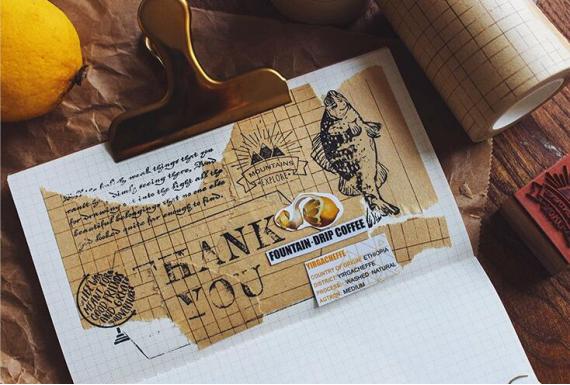 There is also this large area retro patterned tape.
Post it on a full page or on a postcard, it won't feel too monotonous.
Okay, with the above materials, you are basically entering the door of retro journal~
3. Retro style journal layout
The retro-style layout is relatively simple compared to other journals, which is to stack materials on top of each other. However, to add a sense of beauty, you still need a little bit of skill.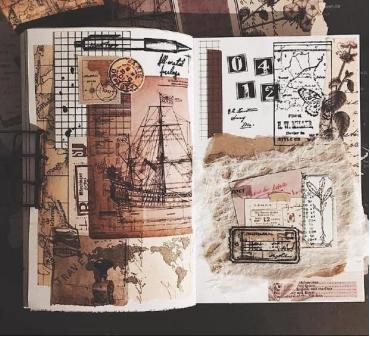 For pure collage, you can try staggered arrangements of materials. The sticker journals of retro journals are mainly long and large-area squares. Long strips of stickers are generally used for the base. If we encounter two strips, we can stick them into an "L" shape, then superimpose some square patterns on top, and finally use small squares and circles. Decorate.
In addition, you can also use other materials, such as kraft paper and silk materials, to make your collage layered and add some interest.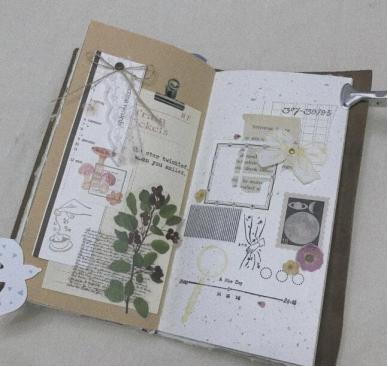 A journal like this one belongs to the light retro type, which is relatively simple and suitable for novices to imitate. There are not many materials used on the page, but there are quite a lot of materials used, such as the lace in the upper right corner of the left page, the petals made of sulfuric acid paper in the lower right corner, the paper we usually use in homework books in the upper right corner, and the Some of the blank spaces are decorated with some stamps. There are many types of materials in the whole picture, but it does not appear cluttered. The appropriate white space also adds a little sense of space to the whole picture.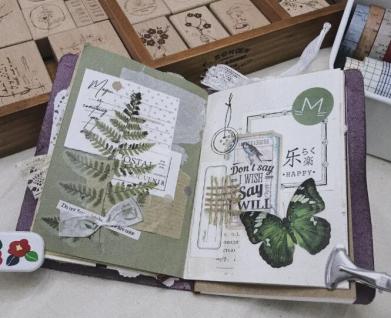 There is also this green color matching, which is retro and fresh. When making this type of journal, remember the "unity of color" so that the entire picture will be more coordinated.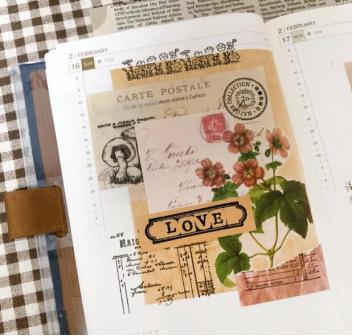 Let me tell you a very useful little way to make a journal. Use kraft paper (or various good-looking cloths) and seals as the background, use square notes and seals in the middle, and use some good-looking tapes and stickers on the top. In this way, you The journal layout will definitely look great!
On this basis, you can also add a paragraph of text in the blank space to make the whole picture look both artistic and retro.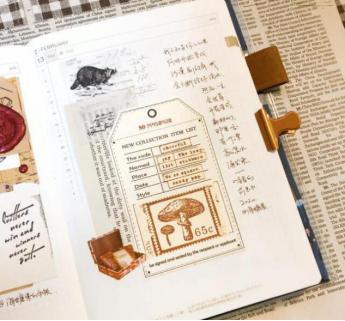 In short, retro journals still have a lot of flexibility. I hope you will get more inspiration after reading this blog.