Best 10 Creative Ideas for Making a Couple Scrapbook as a Beginner
Aug 16, 2023 by journalsay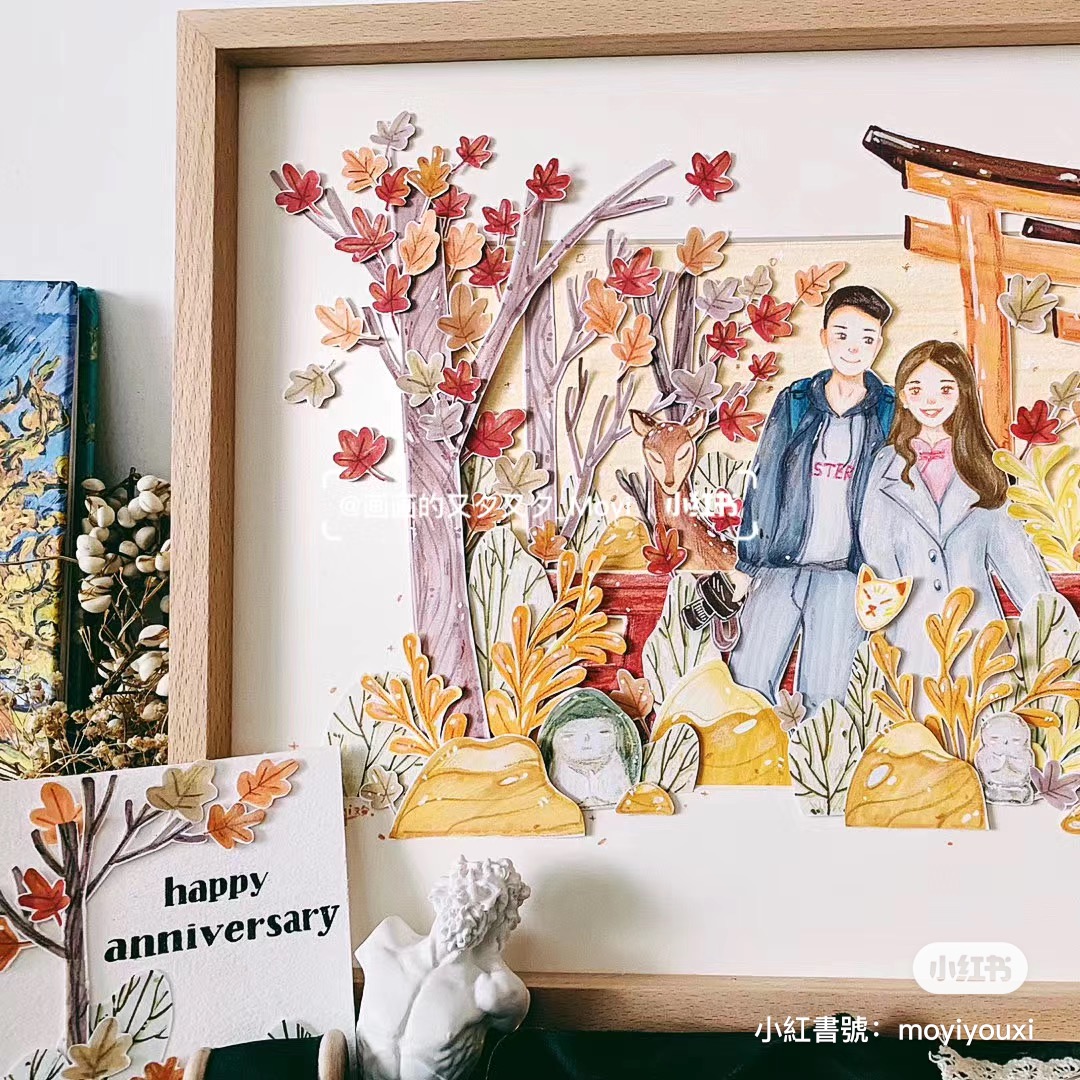 Scrapbooking is a fun way for couples to preserve memories of their relationship journey together. These 10 creative ideas are perfect for beginners who want to try their hand at scrapbooking for couples but don't know where to start. They're easy to make, suitable for scrapbooking newbies, and full of inspiration to create a sentimental keepsake book for you and your loved one to look back on.

Couples' scrapbooks typically contain photos, mementos, journaling and decorative elements that celebrate your romance, travels, milestones and shared adventures. It's a meaningful keepsake to honor your unique love story. This starter guide will provide simple, adorable concepts to get you started on documenting your cherished memories together in the form of a scrapbook.
The perfect companion to keep track of your love - Journalsay Diary Book
Starting Couple Scrapbooking Adventure
If you are a beginner you have to collect some scrapbooking supplies supplies first, you can collect scrapbooking supplies from journalsay shop.Scrapbooking albums from JournalSay are of superior quality and beautifully designed. There is a large selection of scrapbooking washi tape,

colored paper

,

stickers

, etc. that will allow you to customize your pages.
10 Scrapbooking Ideas to Record Your Memories
1.Memory Lane- Create a timeline of your relationship with tickets, photos and memorabilia.
Organize important moments in your relationship in chronological order, such as the first date, saying "I love you", moving in together, etc. Organize photos, tickets and other memorabilia in chronological order. Design a timeline on two opposing pages in your scrapbook. One side of the page is for photos and objects, while the other side contains important dates and descriptions. Print a nice title, "Our Time Capsule". Use pins or double-sided tape to attach the printed photos and objects to the left side of the timeline page. Make sure they are in the right order. Accentuate the margins with colored tape to highlight important dates. Record important dates and add text describing important events on the right-hand page. Use different colored pens to differentiate between time periods. Finally, you can add stickers, decorative glue and other elements to embellish the page and make the timeline more vivid and interesting. Carefully bind the completed timeline pages into a scrapbook or photo album and store it in a safe, dry place where you can periodically look through it and remember your time together.
2.Picture Perfect - Create a photo book of your best memories together.
Organize photos and sort them into chronological order or events. Choose mainly photos of the two of you together or photos that highlight memories. Pay attention to the quality of the photos and scan or restore them if necessary. Plan the layout of the page according to the selected photos and themes. It is usually recommended to have one page with one theme, leaving space for text to be added later. You can pre-design beautiful headings and typography. You can use stickers, pretty frame stickers, colorful paper, etc. to decorate the page edges and set off the photos. Don't over-decorate so as not to cover up the photos. Add text below the photo or in the margins to describe the date and event. This can be handwritten or printed. On a separate page, write your thoughts about the memory. Carefully bind the completed pages into the album. Store in a cool, dry place. Try not to turn the pages too much to protect the photos. Set special days to revisit your scrapbook to reminisce about the good times and add new pages from time to time to capture new memories.
3.Marriage Proposal - Documenting the Magical Moment He Proposed
Collect photos of the day and find background elements of the proposal site, such as flower petals, candles, tokens, etc., which can be made into small decorations. Plan 2-3 pages in your scrapbook, with the actual proposal photos and a message page as the focus. Print out the key proposal photos and paste them in the scrapbook. You can also attach tickets, menus, etc. to add details of the evening. Decorate the page with romantic elements such as lace borders, portrait frames, and roses to emphasize the proposal theme. Write a handwritten confession of the moment in the margins, depicting how you felt at the time. Carefully bind the completed pages into a book and store it in a safe lugar, and open the scrapbook on your anniversary to relive the happy moment.
4.Adventure Souvenir Book - Collect souvenirs from your travels together.
Arrange travel receipts, tickets, brochures, and maps in chronological order. Choose the best photos. Design 2-4 pages per trip/per destination. Sketch a layout focusing on the photos. 4. Use photo corners or adhesive to neatly mount selected prints on each page.
Use tape and glue dots to incorporate tickets, receipts and other flat souvenirs around the photos. Use decorative alphabet stickers or handwritten captions to label dates, locations and travel highlights. Add travel-themed stickers, frames or stamped images to match the theme.
5.Reasons I Love You - List the reasons you love each other.
Use a variety of color pens to write a list of reasons why you love each other on separate blank pages. Reasons can include personality traits, shared memories, warm gestures from the other person, etc. You can also print out pictures or ticket stubs or other physical things that represent a particular reason and paste them in. Sign your name and date at the bottom of each page. Go through the scrapbook from time to time and add new pages to see the relationship grow. Give it to each other as a gift to reflect on your love for each other.
6.Our Home- Record special moments and milestones in your home.
Organize Photos - Categorize photos chronologically, such as moving into a new home, celebrations, renovations, etc. 3. Create 2-page spreads for big events and 1-page spreads for small memories. Leave space for journaling. Use photo corners or acid-free tape to carefully attach printed photos to album pages. Use glue dots to attach movie tickets, cafe receipts, and other small meaningful items to the album. Use decorative alphabet stickers or handwrite details such as dates, occasions, and people in photos. Frame photos and add themed stickers and washi tape to match the mood of each event. Arrange completed pages in order, adding separator pages for different sections, such as "Our First Home."
7.Date Nights - Save fun date night ticket stubs and photos!
Collect meaningful objects such as movie ticket stubs, restaurant bills, and admission tickets. Print out a selection of photos from the night, preferably of the two of you together. Create a simple layout on each page of the album that highlights the objects and photos. Use pins, decorative corners, etc. to attach and display the objects. Photos can be framed to decorate the pageSize corners. Write a note of the date and place underneath the object.
8.Recipe Collection - Share your favorite recipes for cooking together.
Gather your favorite recipes and print them out. Design a simple layout on each page to highlight the recipe. Include a photo of the recipe. Include the name and date of each recipe, and write down what you like about the dish. In the margins, you can add the story of the dish, such as the first time you tried it. Label your favorite dish with a ribbon. Decorate the pages with matching kitchen stickers.
9.Wedding Bells - Make lasting memories of your walk down the aisle with wedding photos and programs!
Organize the most important group photos of the day and print them out carefully. Set up 2-3 pages to show the key photos, and draw a design to determine the layout. Decorate the photos with romantic framed stickers and lace edges to set the mood. Print the program and invitations and store them in a pouch and attach them to the page. Underneath the photos, write the time, place, and dress code in a nice font. In the margins, write a confession about the moment and how you felt at the time. Finally, use the floral decorative paper as a finishing touch on the page to present the theme perfectly.
10. Wish List - Create a vision board for your hopes and dreams as a couple.
Discuss and write down short- and long-term goals for the two of you, such as buying a home, traveling the world, etc. Collect images related to your goals on Pinterest or in magazines. Plan a layout on a scrapbook page and paste the images into themes. Print out words that represent your vision, such as "Home Buying Day" or "World Traveling". Next to the pictures, write down specific ideas for achieving your goals. Embellish the pages with brightly colored decorative stickers. Bind a book and keep it in a prominent place to look at from time to time. Go through it once a year to check on progress and add new visions.
Conclusion
In order to create a meaningful and memorable couple's scrapbook, it is important to choose the concepts and materials carefully and record the big events and small moments in your relationship. Whether it's a romantic proposal scrapbook or a photo album of everyday moments, it can be a unique milestone in your relationship. When you grow old and look back on this scrapbook, you will be able to rekindle those beautiful moments. Make every anniversary a great time to show your loved one how much you care and record your memories. We hope you'll use your creativity to witness the moments of your love story.