10 vouchers worth $50 are here! Follow Journalsay Shop 2nd Anniversary Event and win great coupons!
Apr 28, 2023 by journalsay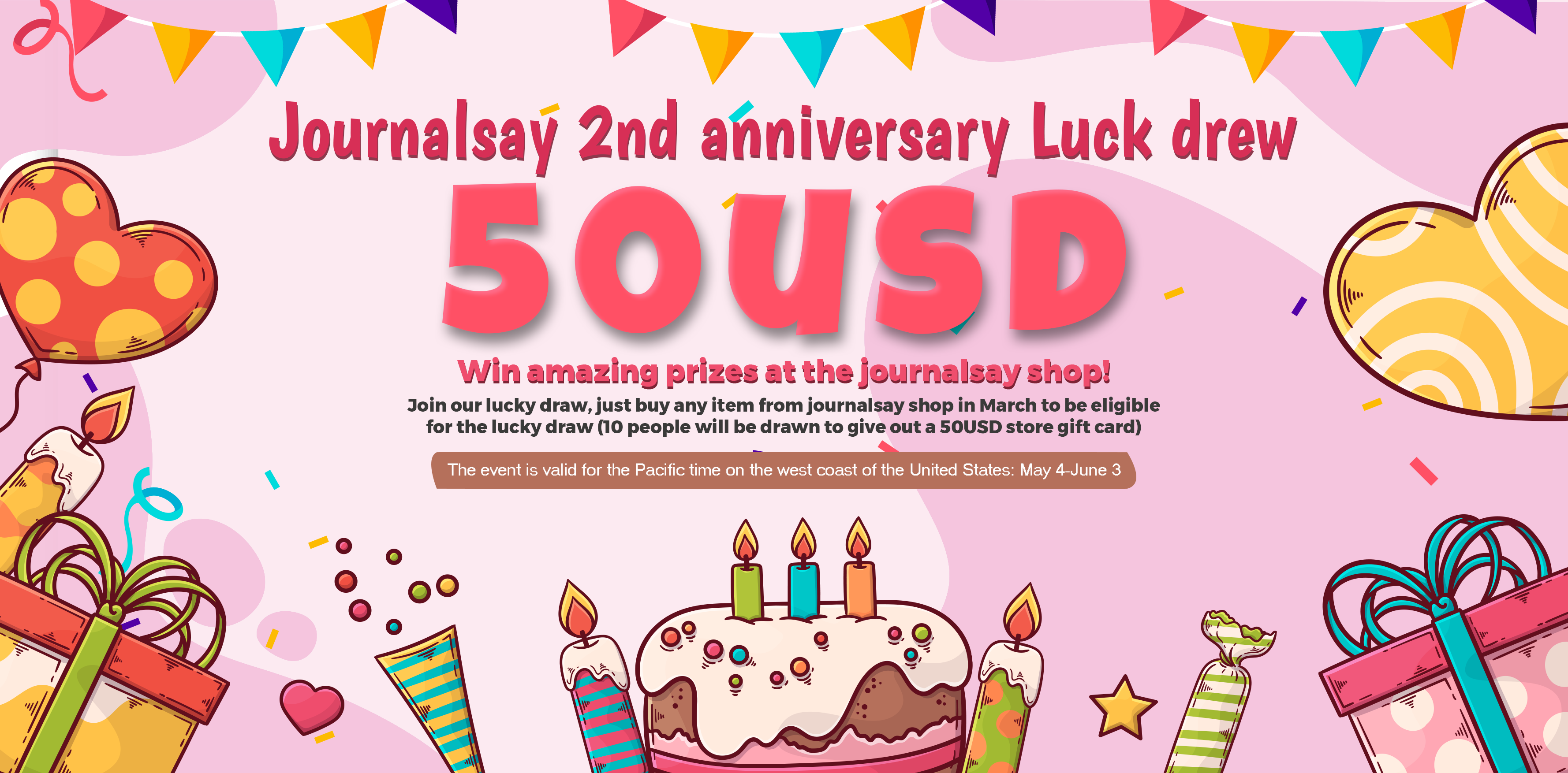 Dear friends!

Hello everyone!

!

!
I believe that when you read this article, you must be very excited!
Yes! Our lucky draw is here again! Are those friends who didn't win the lottery last time very frustrated? It doesn't matter, this time we have increased the number of winners, as long as you participate in our activities, you have a great chance to win!
In the meantime, we really appreciate your love for Journalsay Shop! The progress and growth of Journalsay Shop is also inseparable from the support of friends, so we have set up more prizes in this lucky draw! We really hope you don't miss this opportunity, because it's really worth it!
Cut the nonsense, now let me introduce the details of this lucky draw, please read carefully!
How to participate in the event:
🏆 During the period from May 4th to June 3rd, US Western Time, you must successfully place an order and pay to be eligible to participate in the lucky draw.
Lucky Draw Prizes:
🏆 10 Lucky Users! Each winner will get a $50 voucher! 🎁🎁🎁
Tips: The lucky draw will randomly screen the order numbers. If your order number wins the prize, we will notify you by email.This means that the more order numbers you have, the greater the chance of winning!
The results of the lucky draw will be announced within a week after the end of the event! For the exact announcement date, please follow our Instagram account and our blog.
🎉🎉🎉The lucky draw prizes will be randomly distributed to 10 lucky winners. We really hope you don't miss this opportunity to try your luck. Looking forward to everyone being able to win a prize in this raffle! 💟 So, what are you still holding on to? As long as you place an order, you have a chance to win a $50 voucher, hurry up! 🎊🎊🎊
JOURNALSAY✉