❥5 kinds of journaling ❀ materials necessary to start ✉
Jul 01, 2023 by journalsay
Journaling is a way to record and plan your life. As a journalist, you have to write and write in your journal every day to decorate the pages of your journal, and "journal design" is already an important ritual to record your life. People who write a journal are bound to fall into the big hole of stationery, but have you ever been excited to buy the stationery home, do not know how to do the journal design situation? I will introduce five good-looking and practical journal design goodies, so we can lay out a beautiful texture of the diary design!

Journalsay design must start: paper tape
Paper tape is a must-have for journaling enthusiasts. There are many different materials and widths to choose from, and we can make use of the easy-to-tear, easy-to-stack nature of paper tape to make creative journaling materials with the method!

The following are two types of paper tape materials and how to use them:
Journal material universal paragraph: PET paper tape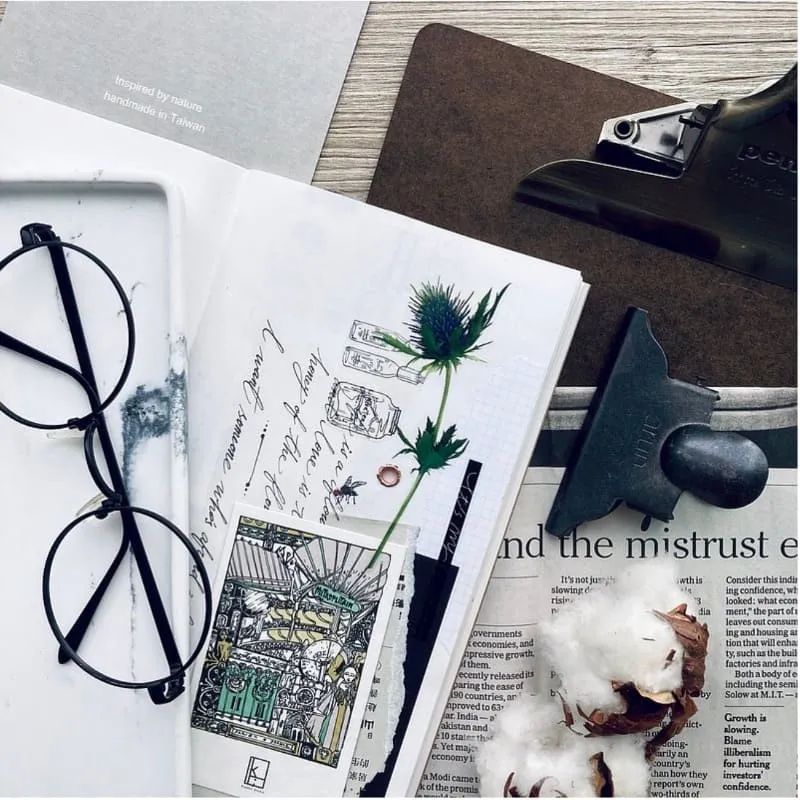 Recently, it is very popular to use PET paper tape for journal design. PET paper tape usually comes with a release paper. After tearing off the paper tape, the effect of the paper tape is just like the printed one. Various materials, such as bronzing, white ink, etc., can be used alone or mixed with other journal materials, and PET is waterproof. In addition to journal, it can also be used to decorate daily necessities such as computers and tablets.
https://www.journalsay.com/collections/pet-tape?spm=..product_45d39854-0973-4e69-8427-f56e1c7e13fd.header_1.1&spm_prev=..search.search_1.1
Journal design must-haves: washi tape

Washi paper tape is the most common material for paper tape, and recycled paper tape is suitable for use as a base for journal design collages, whether it's monochrome paper tape or patterned paper tape, the layered look is very therapeutic, and cutting out patterned paper tape is also suitable as journal material for mixing and matching. If you are afraid that the journal material is difficult to match, you can conceptualize the image before pasting, and then boldly try different combinations, journal collage often requires attempts to collide in order to spark, it does not matter if you do not like it this time, you can try again when you find an empty space!
https://www.journalsay.com/collections/washi-tape?spm=..collection_1d6f5575-63fb-4d48-98bf-f70871348a97.header_1.1&spm_prev=..collection_c899a463-9dc8-45c0-ae84-4abe2b9b5ebc.header_1.1
Multi-level play of journal design: material paper package

In addition to paper tape, the use of material paper can also be used to match the design of the journal with a variety of levels, material paper can be all the paper you want to use, or tear collage, or write a stamp to paste, can make the journal jump out of a thin sheet of paper and show the layers.
In addition to the general availability of paper, do not want to buy a large number of special paper materials, you can also purchase a journal material package, journal material package materials can be used with their own mix of different feelings, such as the ability to penetrate the lower layer of tracing paper, warm color kraft paper, special material wax paper, etc., and other journal materials mixed as a journal design, their own writing and drawing into, can create a very good effect.
https://www.journalsay.com/collections/material-papermemo-padno-sticky?spm=..collection_ac352595-4cfc-4341-a280-ad6327b1ebd3.header_1.1&spm_prev=..collection_b627b647-82e3-4b2c-b294-628394fb77fd.header_1.1
Journal design essential: stamps

Using "date stamps" for journal design
There are hundreds of different kinds of stamps, but the first one you must have to write a journal is the date stamp, because the date is a necessary element for journal design. A good date stamp can not only be used every day, but also make the "date number design", a small detail that is often missed, more perfect! Adjust the numbers, and then the date carefully stamped on the journal page, as if in a day of sealing ceremony, let the memories with the handwriting and collage quietly lying in the journal , waiting for you to review the day, will be once again by each day seriously touched by their own life.
https://www.journalsay.com/collections/stampsinkpad/products/vintage-date-planner-stamp-personality-art-scrapbooking-clear-stamp?spm=..collection_c899a463-9dc8-45c0-ae84-4abe2b9b5ebc.collection_1.19&spm_prev=..product_1155e8ec-b363-4795-a35d-e356c510bc27.header_1.1
Journal design using "priming stamps

If you don't want to make a complex collage, put a seal with a paragraph of text to make the page lively; and the natural feeling after the seal is put on, it is not abrupt with other materials of the journal material, so it is recommended that newcomers can start with the base seal and the flower and plant pattern seal, which are the two patterns of the seal that are the most easy to miss. Style!
https://www.journalsay.com/collections/stampsinkpad?spm=..product_064f50d1-42ad-4fd7-874e-0461e0014b49.header_1.1&spm_prev=..collection_c899a463-9dc8-45c0-ae84-4abe2b9b5ebc.collection_1.19
Journal design plus goodies: stickers

Stickers can be said to be the best use of journal material, whether white background, transparent background stickers have their own unique style, in the collage is to decide the location before tearing off and paste, not easy to make mistakes. If you are worried that only stickers to decorate the background will be too thin, you may want to do with the above-mentioned materials, so that the stickers become a beautiful and lovely embellishment of the journal material!
https://www.journalsay.com/collections/decorative-sticker?spm=..collection_cc69ccf2-f388-432f-9d0e-f6369b7f7caf.header_1.1&spm_prev=..collection_ac352595-4cfc-4341-a280-ad6327b1ebd3.header_1.1
Journal design practical goodies: stationery folder

Finally, I would like to introduce a necessary prop for journal controllers who want to run a journal sharing account - stationery clips, collage of thick journal, often have the dilemma of not being able to spread out properly to write and take pictures, at this time it is very necessary to use stationery clips to hold the pages, easy to take pictures and write journal pages, a good-looking and durable stationery clips make the journal picture A good-looking and durable stationery clip gives the journal picture a nice finishing touch. Carefully select a stationery clip that you like and let it accompany you to record every detail of your life that you don't want to forget.
https://www.journalsay.com/collections/clip?spm=..collection_f2297334-5a28-4304-b256-d1c2275350fe.header_1.1&spm_prev=..collection_cc69ccf2-f388-432f-9d0e-f6369b7f7caf.header_1.1